Gombegala Ooru -- Channapatna Toys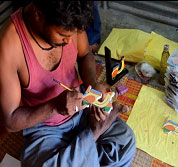 Channapatna is an hour's drive from Bengaluru, on the way to Mysore. This town is also referred as Toy Town. Channapatna toys are the traditional speciality of the Channapatna taluk. They are well known and in demand all over the globe. Tippu Sultan, the ruler of Mysore, the present Karnataka State, was a great admirer of wooden toys. He invited artisans from Persia to train the local artisans in the making of wooden toys. Rosewood and sandalwood were also occasionally used in making the toys, but the main wood used was ivory wood for almost two centuries. They also use teak, pine, rubber and cedar wood.
These toys are eco-friendly which makes them different from other toys. They are made using vegetable color dyes, which are non toxic.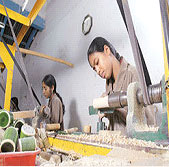 Another interesting fact is that the customers can even witness of the making of these toys by the artisans, right in front of their eyes. These toys are simple, brightly coloured, safe and attractive and are ideal for children.
Channapatna Taluk has an Artisan Training Institute (A.T.I) to promote Channapatna toys. The ATI was established 94 years ago. The Karnataka Handicrafts Development Corporation provides the artisans necessary training and awareness about the changing trends. The Government of Karnataka has also provided help by constructing a Lacquerware Craft Complex, which has a manufacturing centre with 32 turning lathe machines, at Channapatna.