Bastar Folk Art:Shrine, Figurines and Memorials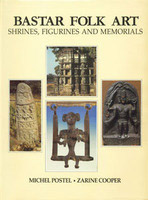 Author: Michel Postel & Zarine Cooper
Year: 1999 ISBN: 81-900184-5-0
Publisher: Franco-Indian Research Private Limited, Mumbai
This book covers topics representing two different, but interrelated, disciplines, namely, archaeology and ethnography. The art and culture, as discussed in this monograph, span Hindu and local ethnic traditions, these being often amalgamated in matter of social and religious expression. This study reveals, there are two underlying currents in the art of Bastar: the classical art which is mostly reflected in the stone sculpture of the medieval period, and the purely local art which is tribal.
Bhagwadgomandal- Gujarati Lexicon
An exhaustive Gujarati dictionary, compiled by Maharaja Bhagwatsinhaji after 26 years of research, Bhagwadgomandal aims to preserve and promote the Gujarati language. It is now also available online.
Bhangra Moves: From Ludhiana to London and Beyond
Author: Anjali Gera Roy
This book seeks to understand the difference between the present globalization-inspired wave of the Bhangra dance in relation to its traditional form. In the book the author archives the tangled genealogy of this folk dance and its subsequent modifications as it winged its way across cultures and continents.