Babulal Dahiya - Protect and conserve the environment through their ancestral knowledge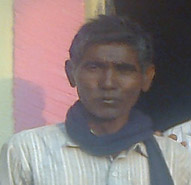 Mr.Babulal Dahiya is one among the native people from Satna District of Madhya Pradesh, who are keen to protect and conserve the environment through their ancestral knowledge. He is affiliated to a non-profit organization named Sarjana Samajik Sanskratic Evam Sahityatik Manch, Pittaurabad, Satna, M.P.
He observed that the local varieties of rice and other cereals were vanishing due to modern agricultural practices and started conserving them. He focused on conserving rice species as they were more in number and often used locally. He started with 10 species of rice and now conserves more than 80 varieties of rice species in his agricultural fields in Satna. He cultivates the crops in small plots using a trial and error method. Once the crops are ready, he harvests and shares them with other farmers. He has developed his own seed collections of rare species, which he distributes to the farmers who are interested in cultivating them in their field. In return, during harvest, he gets back new grain to continue the seed bank. He also conserves Desi Makka, Sama, Kakun, Kutki, Kodo and Katia wheat and others. Besides this, Mr.Dahiya has written several poems and documented local songs of tribal festivals, rituals, customs and traditions in Bagheli language, the local dialect.

His work has benefited the tribal and rural community of Madhya Pradesh, for which he has received the Biodiversity Award of 2011 from Madhya Pradesh State Biodiversity Board, Bhopal. He is also recognised by different government and non-governmental institutions for his work in the field of rice conservation. To continue and promote his work, he has been financially supported by institutions like Madhya Pradesh State Biodiversity Board, SGP, GEF and Paryavaran Mitra Project of the Centre for Environment Education.