Bastar Folk Art : Shrine, Figurines and Memorials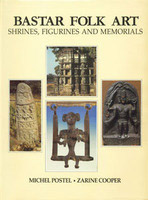 Author: Michel Postel & Zarine Cooper
Year: 1999 ISBN: 81-900184-5-0
Publisher: Franco-Indian Research Private Limited, Mumbai
The present work documents different aspects of the cultural heritage of the district of Bastar in Chhattisgarh. Society in Bastar is a multi-layered one, incorporating the cultural facets of different communities, many of whom have settled in the district over the centuries.
This book covers topics representing two different, but interrelated, disciplines, namely, archaeology and ethnography. The art and culture, as discussed in this monograph, span Hindu and local ethnic traditions, these being often amalgamated in matter of social and religious expression. This study reveals, there are two underlying currents in the art of Bastar: the classical art which is mostly reflected in the stone sculpture of the medieval period, and the purely local art which is tribal.
While the varid lifestyles of the Maria and Muria Gonds, and other groups, have been the focus of considerable anthropological research, relatively little is known of the numerous temples that represent the establishment of the Nagvansi dynasty in the 10th century and subsequently that of the Kakatiya. The ruins of Bhongapal and Garh Gobrahin are estimated to be older and bear testimony to the transitory efflorescence of the Buddhist and Vaisnavite faiths. Their influence on the socio-religious structure of the indigenous population is reflected in the village shrines, highlighting an on-going process of mutual enrichment.
About the Author
Michel Postel, a French national and resident in India since 1950, started the Project for Indian Cultural Studies in 1978 which sponsors research in Indian Art and Culture.
Dr. Zarine Cooper has worked extensively on the archaeology of Bastar and the Andaman Islands and has publications in leading international journals. In 1985, she was awarded a Homi Bhabha Felloship.