Apatani Paddy-Fish Cultivation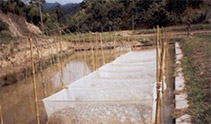 The Apatani are a tribe inhabiting the Ziro Valley of Lower Subansiri District of Arunachal Pradesh. The Apatani practice aquaculture alongwith rice farming on their plots. Rice - fish culture in the valley is a unique practice in the state where two crops of rice (Mipya and Emoh) and one crop of fish (Ngihi) are raised together.
Integrating aquaculture with agriculture assures higher productivity and year round employment opportunities for farmers.The plots utilised for rice-cum-fish culture are mainly based on organic fertilisation using a variety of animals excreta such as poultry droppings (Paro pai), pig excreta (Alyi ekha) and cow dung (Sii ekha). Other sources of organic fertiliser are wastes of plants such as rice husks (Piina), waste product of local beer (Poi), ashes from household fires / burned products (Mubu), remains of burnt straws (Muyu) after the harvest is over and compost fertiliser such as decomposed straws (Liisi), weeds (Tamih) and stalks (ankho).
The Apatanis utilise a variety of domestic waste products in their paddy fields to enhance crop productivity which in turn enhances soil fertility as well as feeds the fish. They collect heaps of rice bran, poultry droppings, pig excreta and many other household wastes during the month of December and January when transplantation for the next season begins.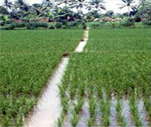 The rice field (Aji) is utilized for fish culture in the following ways. Fish is reared from the month of April to September when the paddy crops grow in the field. The fish culture is also taken up from the month of November to February after harvesting of paddy crops is completed and before transplantation for the next season begins. The culture of fish in paddy fields, which remain flooded even after the paddy is harvested, often serves as an occupation for unemployed youths.
Paddy fields are suitable for pisciculture at Ziro bacause of strong bund (Agher) systems. Bunds prevent leakage of water, help retain desired depth and also prevent the escape of cultivated fish during floods. The bunds are built high and strong to match the geographical and topographic locations of the paddy fields. The bases of the bunds are supported by bamboo matting. Millet cultivation (sarse) on the bunds is a common practice in Apatani pleteau. Hence, leaving no portion of paddy plots unutilised. In future, the bunds can be utilised to grow several varieties of vegetables, like cauliflower, cabbage, tomatoes, radish, pumpkin, cucumber, beans, brinjals, chillies, ginger etc.
Apatanis use paddy field channels (Siikho/Parkho/hehte) for water management. The channels are constructed across the fields and divide them perpendicularly and horizontally and meet at different points. The parkho provides the rearing space for fishes and provides shelter during the sunny days. The Apatanis' paddy fields have two outlets and one inlet. One outlet is used to divert overflow of water while the other remains at the bottom and is meant for draining of the water before harvesting paddy crops and fishes.