Chhau Dance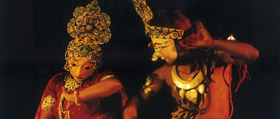 The Chhau dance is prevalent in the tribal belt of the bordering areas of the provinces of Orissa, Jharkhand and West- Bengal in eastern India. There are three distinct forms of Chhau associated with regions, where these are found:
Seraikella Chhau of Jharkhand
Mayurbhanj Chhau of Orissa
Purulia Chhau of West Bengal
The dances are performed by many different communities such as as Mundas, Mahatos, Kalindis, Pattnaiks, Samals, Darogas, Mohantys, Acharyas, Bhols, Kars, Dubeys, and Sahoos, whereas the musicians come from the communities such as Mukhis, Kalindis, Ghadheis, Dhada. These communities are also involved in the making of the instruments. Masks form an integral part of Chhau Dance in Purulia and Seraikella. Communities of traditional painters known as Maharanas, Mohapatras, Sutradhars are involved in the making of these masks.
The knowledge of dance, music and mask-making is transmitted orally. The dancers perform a repertoire that explores a variety of subjects: local legends, folklore and episodes from the epics Ramayana/ Mahabharata and abstract themes. The vibrant music is characterized by the rhythm of indigenous drums like the dhol, dhumsa and kharka and the melody of the mohuri and shehnai.