ChikanKari Embroidery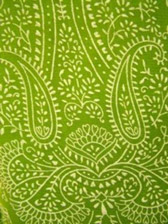 Chikankari is fine art of embroidery made with white untwisted yarn with the help of a needle on a fine plain cloth. The cloth is generally plain white, pink, maroon, shades of green etc. so that the embroidery work is visible. Earlier chikankari was done on fine white cotton fabric called muslin or mulmul, but with decline of availability of material, gradually the work was started being done on other fabrics like Organdie, Cotton and Silk, Voil, Chiffon, Lenin, Rubia, Khadi, Handloom cloth, Terry Cotton, Polyester, Georgette, Terry voil.
During 17th-18th century, this fine embroidery 'Chikan' was produced in Dhaka, which was later, brought to Lucknow from East Bengal by the Nawabs of Awadh. Chikankari flourished and got its due recognition under the patronage of the rulers of Awadh. Some historians opine, that Chikan is a Persian craft. The word 'Chikan' is probably a derivative from the Persian word 'Chikin' or 'Chikeen' which means a kind of embroidered fabric. Possible linguistic connection could be chiq/chic which is Persian word for 'purdah'.
This is a home based industrial activity which is mainly performed by women artisans and workers. Firstly, designs are printed on the cloth with washable colours and different stitches or embroidery work is done on cloth. Due to the variety of stitching-styles involved in Chikankari, it is claimed to be one of its kind hand embroidery that is impossible to imitate. Chikan embroiders claim of about thirty-two different types and patterns of stitching work. They have given interesting names to these stitches.
During British rule this art form suffered heavily. The import of super fine low priced mill textile from England caused the decline of the trade. Many Artists remained confined to the homes of artisans and those who were fond of the craft only carried out this art form. This also resulted into exploitation of helpless chikan workers. However after Independence efforts to revive this industry were launched.
Today lakhs of people are getting their employment from this art form. However, these artisans are faced with the problems of finance, technology and skill up gradation, production and marketing of the product which again makes the entrepreneurs and artists vulnerable thereby also leaving chikankari vulnerable.