Clay & Terracotta of Chhattisgarh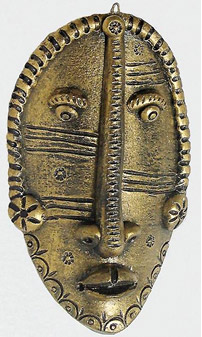 Votive terracotta figures are found widely in the districts of Bastar, Jhabua, Sarguja, Raigarh, and Mandla in Chattisgarh. Clay icons are placed on the borders of villages to ward off evil spirits, to appease and propitiate unseen forces, and also to seek their blessings for a trouble-free and happy life. Icons of Matri Devi or the Mother Goddess, known as Mai among tribals, are installed and propitiated to guard villagers from plague, fever, and epidemics. The idols have various names, linked to the name of the village: Khanda Mai, Banjarin Mai, Kankalin Mai, and Chechak Mai.
The tribals of Bilaspur have animal and human figures on their roof tiles. The Baigas and Gonds of the Mandla region make figures with sunken eyes and big noses, with their head covered with animal hairs. These are linked in some form with witchcraft and evil spirits and are placed in fields or on roof tops as protection. Sacred spaces under trees also have votive terracotta offerings. A wooden pillar intricately carved with figures of gods and animals is installed in the central courtyard of temples, known as the devgudi. Clay images of gods and goddesses are also installed in the temples. Propitiation of the deities is done with votive terracotta offerings. Horses are a common form of terracotta figurines. The terracotta elephants of Chindwara are depicted with two riders sitting on a howdah. Howdah elephants are crafted in Bastar, Mandla, and Betul. They are sometimes used as the sinhasan or seat of the Mother Goddess. Betul specializes in animal figures.
The mud walls of houses are adorned with clay murals, clay relief, or carvings, usually done by women. Clay is mixed with paddy husk and cow dung in this process and the motifs are including traditional chauk or square motifs and animal figures on the internal and external walls of the houses. This relief work is bare and unpainted. In Rewa and Shahdol, life-size figures of gods and goddesses like Ganesha, Hanuman, Shiva, and Kali, depicted on the interior walls of the houses, give them a temple-like aura. The facial features are finely carved and embellished with fine lines.
Tribal terracotta masks form a part of all community celebrations and are very popular in the regions of Bastar, Sarguja, Mandla, and Betul. The Chher Chhera festival is celebrated with young men and women wearing masks dancing and singing. Clay masks are made out of clay pots or matkas with holes for eyes and with clay noses stuck on them. Masks are coloured red and are used in folk plays and dances. Matkas turned upside down with bold and grotesque features are seen fixed on bamboo poles in fields acting as scarecrows. The tribal groups of Sahariya, Gond, Baiga, and Pardhan make attractive grain storage bins embellished with carved animal and human figures.
Lamps or diyas are also common terracotta products. The famous chidiya diya of Sarguja is a complicated wheel-thrown oil lamp and works on the siphon principle. The bird's belly is detachable and has a tube-like opening by which it is filled with oil. Since it is kept lit at the devgudi of the Mother Goddess, it is known as Mata Diya or Mother Lamp.
Source: http://www.craftandartisans.com/clay-terracotta-of-chhattisgarh.html