Dhanu Yatra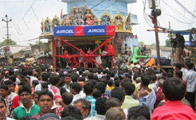 Observed in December-January, the Dhanu Yatra of Bargarh in western Odisha is an 11 day theatre festival. Dhanu Yatra is the theatrical presentation of Krishna Leela enacted to bring the old myth alive on locations from the marriage of Devaki with Vasudeva till the death of Kansa as described in the scriptures. The entire town transforms itself into Mathura, and the episodes from the marriage of Devaki and Vasudev, the birth, growing up of Krishna and the slaying of Kans are enacted on various stages in the town, making it probably the world's largest open air theatre. The entire town participates in the festival.
The entire topography of Bargarh within a radius of five kilometers turns into the zone of play, making it the largest open air theatre where the scenes are enacted in proper locations giving the festival a lively and natural look. There is no specific dialogue for any scene. Keeping in view the sense of the episode, the characters speak the dialogue extempore in their own way.
The festival also provides an opportunity to the local performing artistes to exhibit their talent when they present their performance in the Durbar of Kansa and on makeshift stages.
The local people have been watching this for years, preserving a tradition. What is interesting is the way new visitors who come to see the festival become a part of it. The festival does not in any way interfere with the normal routine of the city where everything goes on as usual.
When and how the Dhanu Yatra began at Bargarh is not exactly known but it is being organised since 1948 almost regularly every year.