Dhokra Metal Casting of Chhattisgarh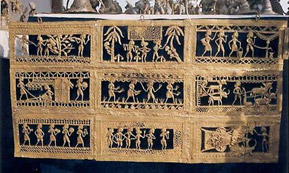 Ghadwas are the crafts persons involved in casting bronze casting articles. These craftspersons are scattered all over the region. Jharas of Raigarh, Malars of Sarguja, Swarnakaras of Tikamgarh are the other tribals engaged in this art.
The method of lost wax procedure or cire perdue is used to the cast bronze articles. Local artists make their own tools with the help of local blacksmith and carpenters. Mutni, sooja, pinachaku, hatwani, chimta are few of the tools .
Source: http://www.craftandartisans.com/dhokra-metal-casting-of-chhattisgarh.html