Kiran Pati - Reviving local traditional art form of rock sculptures

Kiran Patil from Kalaniketan Kolhapur, Maharashtra has been reviving local traditional art form of rock sculptures in Basalt. Traditionally Vadar community is known for rock sculptures and artefact making, but this art form is fast dying out. Special programmes to promote traditional stone workers, rock sculptures from Vadar community, a Dravidian language speaking community which has historically contributed significantly in construction of forts, wadas, statues, water tanks and so on in Deccan region.
Patil represents those few sculptors who have consciously conserved and promoted this art form of rock sculpting. Kiran Patil has successfully revived the art of rock sculptures which require extraordinary patience, artistry and understanding of rock types and properties. While potential in international markets exist for this, Sculptures made out of local basalt rocks are declining in local market with increase of cheap and aggressively marketed works in sandstone, marble etc. by artists and enterprises from North India.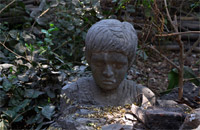 Installation of his art have already been done at Taj International Hotel, Mumbai, and in England and USA and rare order of 7 installations in Dubai.
There are two notable centres in Maharashtra known for rock based art and artefact making
1. Junnar, Dist. Pune and
2. Sangamner, Dist. Ahmedanagar
Kiran Patil has also completed a thesis on Rock Art at the G. D. Art Drawing & Painting Dalvi's Art Institute.