Prakash Govind Satpute - A practitioner of traditional footwear of 'Kolhapur'
Kolhapur is known for its unique brand of leather footwear popularly known as Kolhapuri Payatan or Chappal. 4 variants of Kolhapuri Payatan continue to exist: 1. Dhanagari Payatan 2. Kurunvadi 3. Kapashi 4. Regular Kolhapuri. Upper belt, its design and sewing distinguishes these variants. Further these footwear comes in a special talking version! A 'Karr Karr' sound making variant. This valued property is attributed to scorpion tail or tiger claw shaped seed of plant Martynia diandra/annua which is inserted between two layers of sole.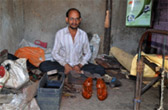 Prakash Govind Satpute is a practitioner of traditional footwear of 'Kolhapur'. He specializes in the Leather work of Kolhapuri Payatan/ Chappal making. According to him, this ICH involves knowledge of leather processing, stitching/sewing, a process that can be traced back to ancient times.
Leather processing stage, which is the initial stages in the making of theis footwear involves stages as below
2-3 days of lime process of cow/bull, buffalo and goat hides
Tanning with Acacia nilotica (babul) and Terminalia chebula (hirada) barks for 3 days to remove hairs on hide
Drying for at least 21 days in sunlight
Leather is ready for work now. Ready leather of bull/cow costs Rs.225/kg and buffalo leather at Rs.170/kg. On an average 4 chappals/paytans are made out of single animal hide.
Paytan Parts and specific leathers go into making an individual unit, these are:
a. Lace type 'veni' and smallest strips are made out of goat leather
b. Upper cover of paytan from bull/cow leather
c. Sole from buffalo leather
One paytan/chappal takes 4-5 days to create. Dhangars – Shepherd community from the region prefers heavy paytans with 4-5 layers of sole.

Kolhapuri chappal/paytan is valued for its aesthetics as well as durability. Hand crafted Paytans are valued more than machine stitched ones. Kolhpaur today has only 10-12 families who continue the tradition of hand crafted Kolhapuri paytan making. These Chappals are known to cool the heels and eyes.
While demand is high and increasing, supply of good quality hides is limited and a major challenge for this ICH to continue its existence and vigour. Traditionally this footwear making is associated with the diverese Chambhar (Cobbler) community of Kolhapur, Maharashtra such as - (i) Traditional families of Chambhars from Senapati Kapshi, Tal. Kagal, Dist Kolhapur for Kapshi Variety. (ii) Traditional families of Chambhars from Kurundwad, Tal. Jaisingpur, Dist. Kolhapur and (iii) Traditional families of Chambhars from Madbhavi, Mole, Shedbal and Athani from Athani taluka and also (iv) Chambhar community in other important places of Ainapur, Nipani, Anantpur, Ramdurg and Belgaum.

There are many issues and challenges facing the conservers of this heritage craft. These include:
Supply of quality and adequate hides,
Special promotion towards branding and exporting.
Even for master craftsman like Mr. Satpute, credit is not available from banking sector which demands for land and such other properties as security, when the art and skill is the real capital with them
Recognition in form of Geographical Index
Institutionalization of quality standard, credits and recognition of skills and knowledge
CSIR- Central Leather Research Institute (CLRI) are driving an initiative towards standardization of stamping and innovative changes in the designs based on computer techniques, reduction of processing time for Kolhapuri paytan/chappals in Athni, Tal. Athni, Distt. Belgaum (Belgavi).