Intangible Cultural Heritage of Assam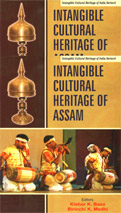 Author: Kishor K. Basa & Brinchi K. Medhi (Eds.)
Year: 2008 ISBN: 9788177021796
Publisher: Indira Gandhi Rashtriya manav Sangharalaya, Bhopal & Pratibha Prakashan
Intangible Cultural Heritage of India-Series 6
Highlighting the intangible cultural heritage of Assam, the gateway to northeast India, the 6th book in the series of Intangible Cultural Heritage of India, contains papers under seven themes for documenting such heritage. They include Folk Tales, Rituals, Cults and Religious Practices, Festivals, Music and Performing Arts, Arts and Crafts, Culinary Traditions, Ethno-Sciences and Conservation of Biodiversity. Based on field work of a number of scholars, this book is a humble tribute to the creativity as well as the ingenuity of the Assamese Intangible Cultural Heritage. It is hoped that the book would be relevant to anthropologists, sociologists and other connoisseur of folk and tribal heritage as well as traditional knowledge system.
Author:
Kishor K. Basa is a Ph.D. from University of London and a Commonwealth Post-Doctoral Fellow of University of Cambridge. He has been teaching in the Department of Anthropology, Utkal University since 1980 and was the former Director, Indira Gandhi Rashtriya Manav Sangrahalaya (IGRMS) Bhopal. He was a former President of Anthropological and Behavioural Sciences Section, Indian Science Congress and Archaeology Section of the Indian History Congress. He has co-edited five books and published papers in anthropology, archaeology and museology. He is the General Editor of Intangible of IGRMS and annual journal 'Humankind'.
Brinchi K. Medhi is a Professor of Social Anthropology in the Department of Anthropology of Gauhati University, Assam. He is a recipient of gold medal for securing First class First Position in Anthropology from Gauhati University, Assam. He has been conducting extensive field studies among the various ethno-cultural groups of North-east India a novelist, short story writer, poet, column writer, and lyricist in Assamese language.