Indigenous Knowledge, Natural Resource Management and Development: The Konda Reddi Experience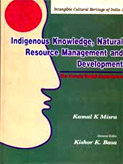 Authors: Kamal K. Misra; Kishor K Basa
Year: 2005 ISBN: 8177021117
Intangible Cultural Heritage of India-Series 2
The 2nd book in the series of Intangible Cultural Heritage of India, documents the rich indigenous knowledge, local practices of natural resource management and common property resources, and relates them to the process of development among the Konda Reddi of Andhra Pradesh, India.
The Konda Reddi is one of the Primitive Tribal Groups (PTGs) inhabiting the North Eastern Ghat region of Andhra Pradesh for centuries and primarily subsisting on Swidden agriculture. Even now the Konda Reddi habitat is in the midst of thick forests and on steep mountains, ensuring their close proximity with nature. The Konda Reddi- nature interaction is reflected in their rich heritage of indigenous knowledge that has been transmitted orally from generation to generation. The volume documents their knowledge of forest and forest produce, wildlife, agriculture, animal husbandry and ethno-veterinary practices, ethno-medicine, insects and flies, food and food reserves, etc. in their present form. The volume also throws light on the natural resource management and common property resources of the Konda Reddi. An attempt has also been made in this volume to relate indigenous knowledge with resource management and development among them. The volume shall be of special interest to scholars in the fields of anthropology, ethno-biology, environmental science, and also to the NGOs and development administrators working among the tribes.
About the Authors
Prof K.K. Misra is Professor of Anthropology at Central University of Hyderabad and is currently on deputation to the Government of India as Director of IGRMS since April 2010, and also assumed Additional charge of Director, Anthropological Survey of India, Kolkata. He has written/edited/co-edited 9 books and has published more than 50 research papers in journals of repute and anthologies. He is the editor of Humankind and Journal of Anthropological Survey of India and on the editorial advisory boards of Indian Anthropologists, the Oriental Anthropologist International Journal of Anthropology and ethno-medicine and The Scientific Journal International.
Prof. Kishor K Basa is the former director of IGRMS. He has been teaching in Department of Anthropology in, Utkal University since 1980. He has co-edited 5 books and published papers in Anthropology, Archaeology and musicology. He is the General Editor of Intangible Cultural Heritage of India Series of IGRMS and annual Journal 'Humankind'