Textile designs of the Boros of Northeast India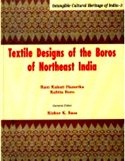 Authors: Rani Kakati Hazarika, Kabita Boro, Kishor Kumar Basa
Year: 2006 ISBN: 8177021230, 9788177021233
Publishers: Indira Gandhi Rashtriya Manav Sangrahalaya, Bhopal Original from the University of California
Intangible Cultural Heritage of India-Series 3
The 3rd book in the series of Intangible Cultural Heritage of India, tries to unfold the rich cultural heritage of the Boro-Kachari Tribe of Northeast India. The tribal communities of Northeast India are very colourful and vibrant with their unique lifestyle. Textile garments of the tribal communities of this region represent some specialty of their own. The Boro-Kacharis also wear specially designed textile materials with varied colours. Their women are expert weavers and prepare all the necessary dress materials in handlooms till today. Their dresses have been beautifully designed by themselves with traditional and modern motifs. Rearing and spinning of silk are the most ancient tradition of the Boro women. Boro women use hand made unstitched dress covering the whole body from shoulder to foot (ankle) which display beautiful motifs all over the body.
This book gives a vivid picture of the Boro culture with special reference to their famous perennial designs of textile. It is a matter of pride for Boro women to make their own cloth in their traditional handloom.
The present Volume has three important features first; it is the outcome of documentation of Boro Textile designs under the headings 1. Arnai Design, 2. Chader and Shawl design 3.Dhokna Langa design, 4. Dokhra Ogrong design, 5. Gamcha design, 6. Phali design- by two women scholars from North East India—Rani Hazarika Kakati, faculty member of Department of Anthropology, Guwahati University, Guwahati and Kabita Boro, a research scholar of the same department. Thus it's a study of two women scholars on an aspect of heritage associated with tribal women of Northeast India. Secondly, while anthropology is usually considered as a study of the 'others', in the present case particularly the second author (Kabita Boro) is herself belongs to Boro tribe. Thus in way, it's the study of 'us' and not of 'them'. This may be regarded as an example of ethnography in a post-colonial situation where the subaltern is his/her own spokesperson. Thirdly, textile designs are culturally embedded and best appropriated in their context.
About the Authors
Dr. Rani Kakati Hazarika is a professor in the Department of Anthropology and published number of research papers in different books and journals covering Boro, Rabha and Jiwa communities of assam.
Mr. Kabita Boro is doctoral fellow with specialized in Social Anthropology at Guwahati University.
Prof. Kishor K. Basa is the former director of IGRMS. He has been teaching in Department of Anthropology in, Utkal University since 1980. He has co-edited 5 books and published papers in anthropology, archaeology and musicology. He is the General Editor of Intangible Cultural Heritage of India Series of IGRMS and annual Journal 'Humankind'