Teyyam: A divine dance tradition of Kerala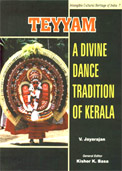 Authors: V Jayarajan
Year: 2008 ISBN: 8177021877 9788177021875
Publishers: Indira Gandhi Rashtriya Mana
Intangible Cultural Heritage of India-Series 7
The 7th book in the series of Intangible Cultural Heritage of India, contains an account of teyyam, a divine dance of north Kerala in which the performer after undergoing several rituals becomes a deity. It is an investigation into the historical, mythological, anthropological, sociological as well as the artistic aspects of teyyam. This book brings into focus the totality of this cult, highlighting the time and space of teyyam, the performing communities, various cults with its mythological backgrounds, the traditional art including painting, costumes, music along with the performance structure. It will be useful for those interested in anthropology, folk culture, performing art and intangible cultural heritage.
About the Authors
Dr. V. Jayarajan (b. 1957-) grew up in Trikaripur (Kerala). He has done his post graduation in Sociology and Folklore and Ph.D. in Social Anthropology from Mysore University (Karnataka). He has presented several papers in national as well as international seminars. He is the Founder and Chairman of Folkland, International Centre for Folklore and Culture at Trikaripur. He has travelled several countries and delivered lectures on Indian Art and culture. He has also produced three documentary films on folk arts of Kerala.
Kishor K. Basa is a Ph.D. from University of London and a Commonwealth Post-Doctoral Fellow of University of Cambridge. He has been teaching in the Department of Anthropology, Utkal University since 1980 and was the former Director, Indira Gandhi Rashtriya Manav Sangrahalaya (IGRMS) Bhopal. He was a former President of Anthropological and Behavioural Sciences Section, Indian Science Congress and Archaeology Section of the Indian History Congress. He has co-edited five books and published papers in anthropology, archaeology and museology. He is the General Editor of Intangible of IGRMS and annual journal 'Humankind'.